Citroen's ultimate campervan concept
Citroen has teamed up with surfing giants, Rip Curl and German campervan experts, Pössl, to create the SpaceTourer Rip Curl campervan concept.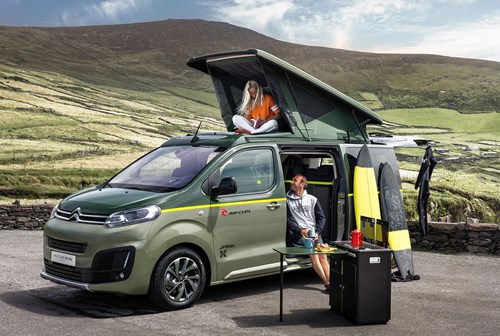 This all in one SpaceTourer is the ultimate campervan vehicle for every outdoor activity with tons of features, including; a built in shower with curtains at the back, fridge, fitted kitchenette with a gas cooker and a rising roof, just to name few. 
With the partnership with Rip Curl, of course comes a number of surfing features. The SpaceTourer has a very handy, airtight storage for wet suits, a built-in safe beneath the vehicle for keys and other personal belongings while you're enjoying the waters, ceiling straps for surfboards and a weather station. Sounds like surfer's heaven. 
The useful outdoor features doesn't just end there, if you're willing to add a number of additional extras courtesy of Fatboy, you can even have a Lamzac outdoor sofa and a freestanding lamp. 
The exterior of the SuperTourer is typically outdoorsy too, nothing says outdoorsy quite like khaki green and this campervan is covered in khaki and beige green inside out. The neon green strips around the car adds a touch of much needed vibrance. 
The SuperTourer will be will be touring around Europe from this October till January 2018, visiting events in the UK, France, Spain, Portugal and Italy.